Shopify to Zoho CRM is a simple and easy-to-use extension for syncing orders from multiple Shopify online stores.

This application will allow you to transfer the list of orders with all the detailed information from Shopify to your CRM system with minimal waste of time and then process it in any convenient way.
The widget supports several stores simultaneously, which will help you not to miss a single order.
Frequent automatic synchronization with the online store will save you from constant manual updates.
Support for TAGs synchronization and smart attitude towards API limits of your CRM system.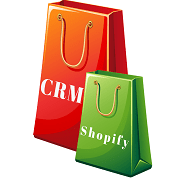 Key features:
- Simple setup;
- Supports synchronization of multiple stores;
- Automatic synchronization;
- Support for sync TAGs;
- Future improvements and updates.


Link to "How to get an access token from Shopify": https://www.youtube.com/watch?v=AKEyEpVXpuE
Make a call to test how it works!
In several minutes new voice recordings of you mobile will be attached to CRM leads or contacts!
We are always ready to help you to setup our Zoho CRM extensions.